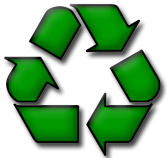 What are the types of recycled paper?
There are three different types of paper that can be used to make recycled paper.

The first, called mill broke, is recycled in the paper mill itself using scraps and paper trimmings from the manufacturing process.

The second type of paper is made from pre-consumer waste content. This simply means the paper was discarded, for whatever reason, before it was ready for consumer use.

The last type of paper is made from post-consumer content. Post-consumer content is made from paper discarded after the consumer uses it. Examples are old magazines, newspapers, etc. Burris Computer Forms uses paper made from post-consumer recycled content.

What percent of your paper is recycled content?
Our products range from 10% to 100% post-consumer recycled content. Different papers have different milling procedures and it is sometimes difficult to get the desired brightness and smoothness using recycled content. We are working with our mills to find the most environmentally friendly papers to use for our products.

Why use products with post-consumer recycled content?
Buying Recycled Products
There's more to recycling than setting out your recyclables at the curb. In order to make recycling economically feasible, we must buy recycled products and packaging. When we buy recycled products, we create an economic incentive for recyclable materials to be collected, manufactured, and marketed as new products. Buying recycled has both economic and environmental benefits. Purchasing products made from or packaged in recycled materials saves resources for future generations. (From the U.S. EPA)
Using Recycled Products
Creating a strong market for recycled products is key to completing the recycling process or "closing the loop." Consumers close the loop when they purchase products made from recycled materials. Governments can promote buying recycled products through their own purchasing programs and guidelines. Manufacturers can participate as well by using recycled materials in their products. (From the U.S. EPA)
Post-consumer Content
Post-consumer content refers to material from products that were used by consumers or businesses and would otherwise be discarded as waste. If a product is labeled "recycled content," the rest of the product material might have come from excess or damaged items generated during normal manufacturing processes-not collected through a local recycling program. (From Earth911.org)


Which of our products contain post-consumer recycled content?
See the following categories below: