ROANOKE, Va. – October 24, 2018
Burris Computer Forms® announces the release of Peel Out!® Shipping Label Sheets for Amazon Seller Fulfilled Prime (SFP) users. SFP Sellers now have the option to print their shipping labels on 8.5X11" sheets enabled by the accurate placement of the built-in 4X6" Peel Out! shipping label. If sellers don't have a thermal printer that prints the 4X6" labels, Amazon Prime Sellers may have to print onto a full 8.5X11" sheet and cut out their label and tape to the packages. Burris' goal when creating this was to offer Seller Fulfilled Prime merchants more printing options, along with cutting down on time spent. Here's what Burris Computer Forms' President Jerry Guzi said about the new product release.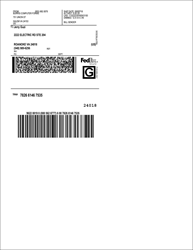 "In response to customer requests, and to help expedite the SFP order fulfillment process, we have designed this Shipping Label Sheet for Amazon SFP sellers to provide the option of quickly printing a 4X6" shipping label integrated on an 8.5X11" sheet using a standard laser or inkjet printer."
To request samples, please email pat@pcforms.com.
Click here to visit the product page
About Amazon Seller Fulfilled Prime:
Seller Fulfilled Prime is a program that allows qualified Amazon Sellers to display the Amazon Prime badge on items and orders fulfilled via their own warehouses. Amazon's Seller Fulfilled Prime program can benefit Amazon, their SFP Sellers, and customers. By selling via and promoting "Prime" on their items, sellers can sell more items. By relying on their Sellers' own fulfillment facilities, Amazon can continue rapid growth by their partnering with SFP Sellers and their warehouses and facilities. Customers can have more options of Prime products and deliveries. Sellers should contact Amazon directly for more information on sign-up and seller requirements.
About Peel Out! Shipping Label Sheets:
Peel Out!® Shipping Label Sheets improve streamlining and accuracy of order fulfillment by providing a built-in (or integrated) label (or labels) on the pick ticket (or packing slip, or invoice). See attached photo for example. Formats available match to work with various software and online platforms including:
ReadyShipper
Multichannel Order Manager (M.O.M)
ShippingEasy
Endicia
Stamps.com
Shopify
Magento
WooCommerce
and other effective software systems and platforms. These are trademarks of their respective companies.
Click here for layouts of packing slip/shipping label formats.
About Burris Computer Forms:
Burris is a leading provider of a wide variety of print-your-own products that allow businesses the ability to print their own forms in-house. They provide forms solutions to business, non-profits, government and educational organizations. For more information on the Company and its products and services, visit their website https://www.pcforms.com, or call 1-800-982-FORM(3676). Burris Computer Forms and Peel Out! are registered trademarks of Jerry Guzi & Company, a Virginia Corporation.
Publish date: October 24, 2018. Updated: September 7, 2023.