Burris Computer Forms® announces the addition of thermal labels to its product line, increasing the diversity of its labeling products. The thermal roll labels have a 3" core, and are available in several sizes and configurations, including fanfold and roll labels for its customers.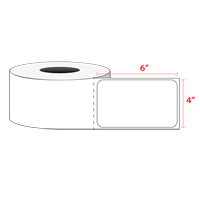 Burris now carries both direct thermal and thermal transfer labels. Direct thermal labels eliminate the need for ink, ribbon, and toner, by being able to print directly on the label through a heating process. Thermal transfer labels also eliminate many costs associated with printing. They are printed using a customer's thermal transfer printer, through a process that transfers information from the thermal printing ribbon to the label.
The labels work with a variety of major brands of printers, such as Brady, Datamax, Intermec, Monarch 9800 series, Printronix, Sato, TEC, and Zebra.
Direct Thermal Labels
Burris' direct thermal printer labels are a white paper, backed with an all-temperature adhesive. These labels perform best for short term projects, as they are more sensitive to general use and weather than are other labels.
Unlike printing on thermal transfer labels, no ribbon is needed for the printer with direct thermal labels, providing cost savings on label printing.
There are many uses for direct thermal labels, including labels for barcodes, containers, perishable items, prescriptions, rotating inventories, shipping orders, and visitor passes.
Thermal Transfer Labels
Burris' thermal transfer printer labels use materials that have been proven over time to do well in the printing process, providing lasting thermal printer images that remain firmly secured after attachment.
Advantages to using thermal transfer labels include all-temperature and all-weather performance, due to their long-lasting print image and strong-holding adhesive. These labels possess great durability, and therefore ensure a long life.
Thermal transfer labels are widely used for in-house barcode printing, but have many other uses as well. These labels are useful for items that need to be labeled for an extended period of time, or items that will have to withstand heavy use and various weather conditions.
Further examples of uses of thermal transfer labels include inventory tags, labels for chemical containers, long-life product identification labels, nametags, and shipping labels.
Price breaks are available on large quantity orders.
For more information about direct thermal labels, click here.
For more information about thermal transfer labels, click here.
For assistance call 800-982-3676 (FORM) or email amy@pcforms.com.
Burris is a pioneer in the print-your-own industry, offering a wide selection of customizable printable products as well as its Peel Out!® Shipping Label Sheets, a combination packing list and shipping label used to streamline order fulfillment. It now introduces its thermal label line for those companies that use thermal shipping labels in their order fulfillment, whether shipping by FedEx, UPS, or USPS. To learn more about its product, or to request samples, visit www.pcforms.com.
Headquartered in Roanoke, Virginia, Burris Computer Forms was founded in 1992 and is privately owned. Its website, www.pcforms.com, contains how-to articles, online tools, free downloadable templates, and a Do-It-Yourself Printing blog. Burris Computer Forms is a registered trademark of Jerry Guzi & Company, a Virginia corporation.
# # #
Products related to this post: