LTL and FTL are abbreviations for Less than Truckload and Full Truckload, respectively. When you're doing large shipments that weigh over 150 pounds you need to start using your larger shipping options.
The abbreviations are made up of the first letter of the first word (L for Less or F for Full) and the letters "TL" which stand for "Truckload".
Let's talk about what LTL and FTL are and when to use them.
About LTL
For shipments that weight between 150 and 10,000 pounds you can use Less Than Truckload. LTL shipments can be a little faster since you don't have to wait until you get enough packages to fill up a truck before shipping.
Here area few key points about Less Than Truckload shipping:
Usually used for shipments between 150-10,000 pounds
Trucks usually make several stops throughout the day to pick up packages from various people
Packages are unloaded and re-loaded multiple times during transit
Multiple shipments per truck
For international shipments, Less Than Container Load (LCL) is similar to Less Than Truckload
Because Less Than Truckload shipments are moved from truck to truck during transit, it's best to put them on a pallet to help protect them. It can also help to keep your shipments together.
About FTL
Full Truckloads don't have to completely fill up the truck; there are two types of FTL shipping. The first type is "Full Load" which completely fills up the truck. "Partial Load" is the second type. It's where the shipment almost fills up the entire truck, but not quite.
Check out these key points about Full Truck Loads:
Used for shipments that are too heavy for LTL, usually over 10,000 pounds
Shipment stays in the same truck from point A to point B
Can save you money by consolidating shipments
For international shipments, Full Container Load (FCL) is similar to Full Truckload
When to Use LTL and FTL
Here's a quick chart to help you decide which type of shipping you should use.
< 150 lbs. = Standard Ground Shipping
151-10,000 lbs. = Less Than Truckload Shipping
> 10,001 lbs. = Full Truckload Shipping
Need special labels for your shipping? Design your own!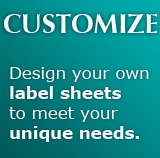 Image: donbuciak