Laser and Inkjet Compatible
Peel Out! 10-UP Label Sheets™ Are Great For:

• Nutrition Data Labels
• Name Tags for business meetings, dating services, golf clubs, gyms, weddings, and parties.
• Labels for clothes, cubby holes, etc. for summer camps, churches, and elementary schools.
• Wine Bottle Labels
• Canning and Jarring Labels
• Arts and Crafts Labels
• Candle Labels
• Adhesive parking passes for high schools, colleges, communities, businesses, and even military bases.
• Fragile, Glass, Hazard, and Breakable Packing Labels
• Warning and Caution Labels
• Organizing and Labeling Inventory, Raw Materials, CD's, DVD's, Tapes, and much more.
• File Folder Labels

Just print and peel off the labels.
The labels are permanent, uncoated, color sheets.
The labels are available in the colors below.
(Colors shown are for illustrative purposes only and may vary on your computer.)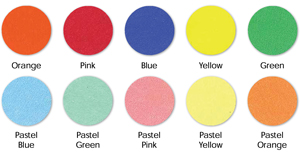 Comparable to Avery® labels # 5163®, 5263, 5523, 5923, 5963, 5978, 8163, 8463, 8663 & 8763
** Note: The quantities listed are the number of sheets, not the number of labels