Laser and Inkjet Compatible
Peel Out! 2-UP Label Sheets™ Are Great For:
• Shipping Labels
• Wet paint signs.
• Moving/storage labels
• 55 gallon drum labels
• Large stick-on warning and caution signs.
• Employee hand washing signs.
• Food Labels
• Carton Labels
Just print, peel off the labels and your shipments are ready to go.
The labels are permanent, uncoated, color sheets.
The labels are available in the colors listed below.
(Colors shown are for illustrative purposes only and may vary on your computer.)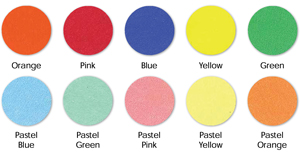 ** Note: The quantities listed are the number of sheets, not the number of labels