For over a decade our postcards have started with 1000 card packs as a minimum quantity. No more! We're happy to be able to offer 100/200 packs of postcards for smaller businesses, new advertisers or for any other various home uses.
We generally target companies and individuals who need larger quantities so we can provide the quality and the price point people desire. For smaller businesses like us it's more difficult to produce and sell small quantities at a competitiv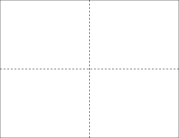 e price point with the major corporations and thankfully we have found a way to do both with our smaller postcard packs!
There are endless uses for these postcards both business, home and school related. These packs are just what you would find in big box stores like Staples or Office Max except with better pricing, quality and that extra personalization you get working with a small privately owned company.
You can view the original press release here!
You can view the product here!
As always if there are any questions don't hesistate to let me know!