5.0 rating based on
1
review(s)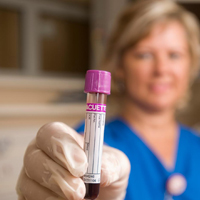 (Delivered labels are blank)
At Burris Computer Forms, we understand the critical importance of precision and accuracy in managing laboratory specimens. That's why we've developed our Laboratory Specimen Labels Collection, a comprehensive range of labeling solutions designed to enhance your lab's efficiency, security, and overall patient care.


Integrated Labels for Patient Information and Sample Labeling:
Our integrated labels provide a seamless solution for printing patient information and sample labels on a single 8 1/2 x 11" sheet of paper. This innovative design simplifies the specimen labeling process, helping ensure accuracy and traceability. Each sheet accommodates up to 8 labels, making it ideal for comprehensive patient sample management.
Enhanced Patient Information and Barcode Printing:
With Burris integrated labels, you can print essential patient information, barcodes, and labels on the same sheet. This can help optimize the workflow within your lab and also reduce the risk of errors. Patient data and sample tracking are aided.
4x6" 10-Up Label Sheet:
For labs that prefer a more straightforward labeling solution, we offer the 4x6" 10-up label sheet. This option is helpful when you only need labels without the need for additional patient information printing. It's a cost-effective and efficient choice, helping you ensure your samples are accurately labeled and organized.
Why Choose Burris Laboratory Specimen Labels:
Quality and Precision:
Our labels are designed with precision in mind, ensuring that each label is crisp, clear, and adheres securely to your specimen containers.
Versatility:
Whether you need integrated labels for patient information and sample labels or the 4x6" 10-up label sheet, we've got you covered. Our choices can help various lab setups and workflows.
Time and Cost Savings:
Streamline your operations, save time, and reduce costs associated with manual data entry and possible labeling errors. Burris labels are designed to help you make your lab processes more efficient.
Data Security:
With integrated labels, patient data remains securely attached to their respective samples, helping reduce the risk of misidentification and helping you in ensuring patient privacy.
Laboratory Specimen Labels from Burris Computer Forms is an aid for professional laboratories that demand precision, efficiency, and patient care. Enhance your lab's operations and provide the highest level of accuracy in patient sample management. Choose Burris and experience high quality in specimen labeling.
Don't compromise on quality; trust Burris Computer Forms for your labeling needs. Explore our labels today and strengthen your lab's labeling process.
Below are our laboratory specimen label products