In an email we recently received a question about License Plate Number barcodes; more specifically, how to create your own. It is possible to create your own LPN barcode label sheets with just Microsoft Word® and a sheet of peel out labels.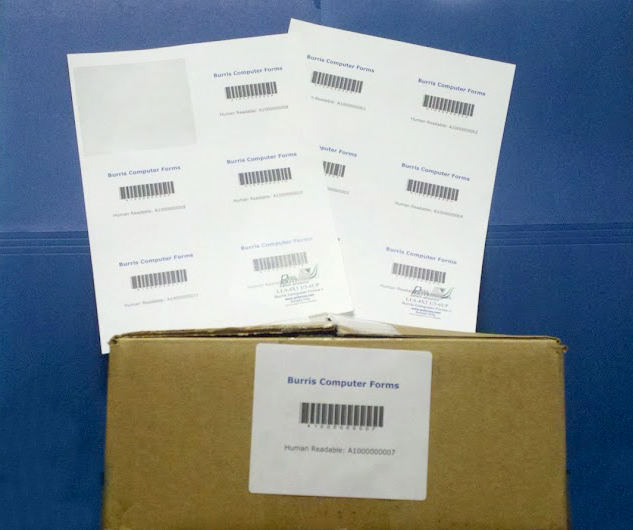 For this example we'll be using this label layout: 6UP Laser Label Sheets
And we will be working with both Microsoft Word® and Microsoft Excel® to create our own LPN barcode label sheets. Since there isn't an easy way to insert a large amount of consecutive numbers in Microsoft Word®, we'll be creating our 18 digit numbers in Excel and then Mail Merging them into Word.
Let's start off by following the steps listed in the How to Create a Bar Code in Microsoft Word® from Barcode.com. For this example we'll be using the barcode font suggested in Step 2 of their How To. Note that in Step 3 they mention you need an asterisks before and after the code number. Instead of asterisks you can either use exclamation marks or parenthesis. We'll be using parenthesis in our example.
Ready to get started?
*Remember, you can click on the images to enlarge them in a new tab/window, depending on your browser settings.
Step 1: Prepare Excel Worksheet for Mail Merge
The first thing we need to do is create our 11 digit barcodes. In Microsoft Excel®, create a new workbook. On the first cell (A1) in the first sheet, create a title for your barcode numbers. We simply used "Numbers."
This is the format our example will show: One letter (A) and ten digit numbers starting with 1000000001. To get things started in cell A2 we typed "A1000000001". In cell A3 we typed "A1000000002". Don't worry, you're not going to have to type all of these out!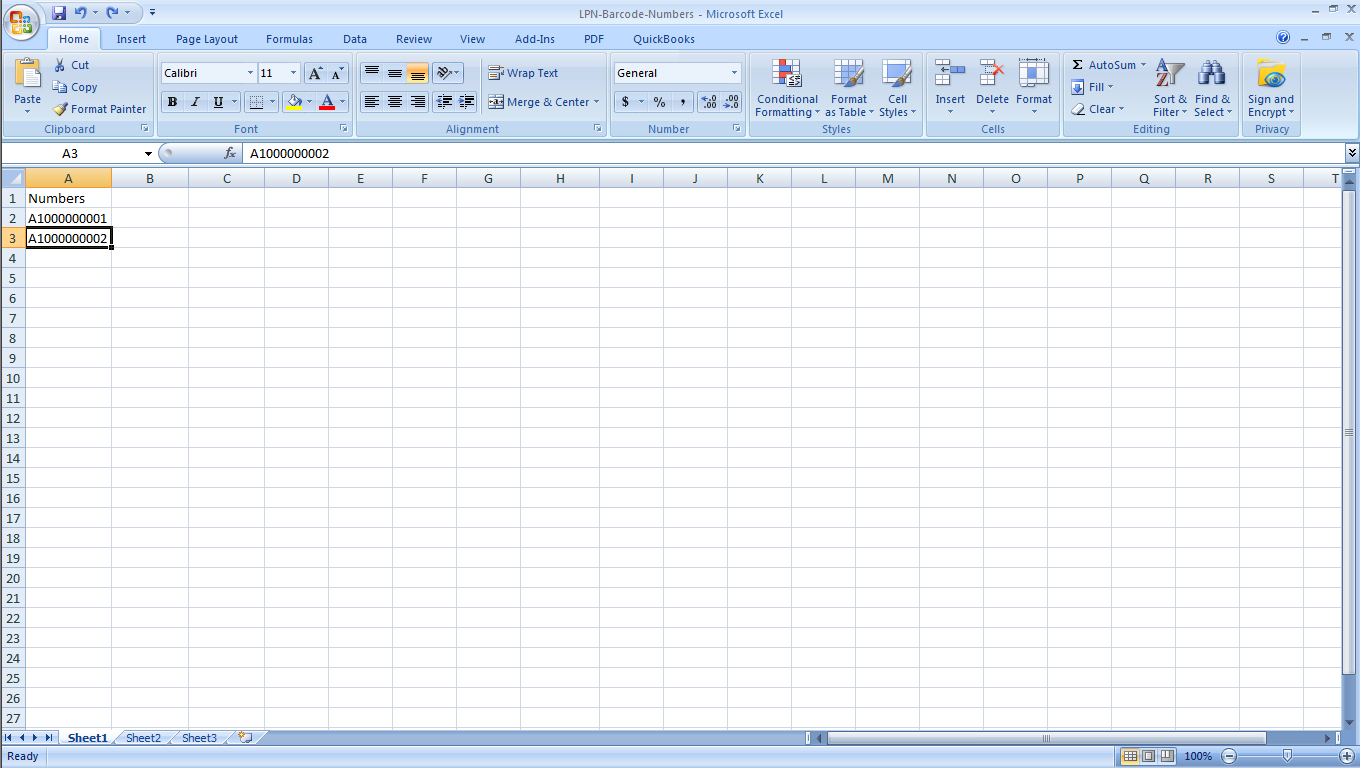 Now that we have our starting block, highlight cells A2 and A3. Once they're highlighted, you'll see a black box in the bottom right corner. Hover over that box and you'll see your cursor change. Click and drag the box down to A6. Once you let go you'll see Excel populate cells A4, A5, and A6 with A1000000003, A1000000004, and A1000000005.
You can drag that little box down as far as youd like and it'll appropriately populate each A cell. For your first run through you shouldn't do too many until you get a good feel for how to create your own LPN Barcodes. The more cells you fill up the bigger the file will be and the harder it can be for your computer to undo and redo changes.
We're only going to go down to cell A51 to give us 50 barcodes to play with for this example.
Step 2: Setting Up Your Label Sheet
Now we're getting down to the actual creation of our barcode labels. It's important to note that the Mail Merge function in Microsoft Word® will not work with text boxes, so we're going to have to make a table to put our label content in.
In order to create my table all I need are the dimensions from the label sheet's page. Here are the dimensions for the label sheet this example is working with:
Label Size: 4×3.33″
Top/Bottom Margins: 0.5″
Left/Right Margins: 0.171875″
Create a new page in Microsoft Word® and go to the Insert tab where you'll find your table creation tools. Our label sheet consists of three rows and two columns, so that's what our table will look like. (Note that if you have a gap between the labels you'll have to make a row or column for that as well. Since our layout has one vertical gap, we will need to make our table 3 rows by 3 columns.)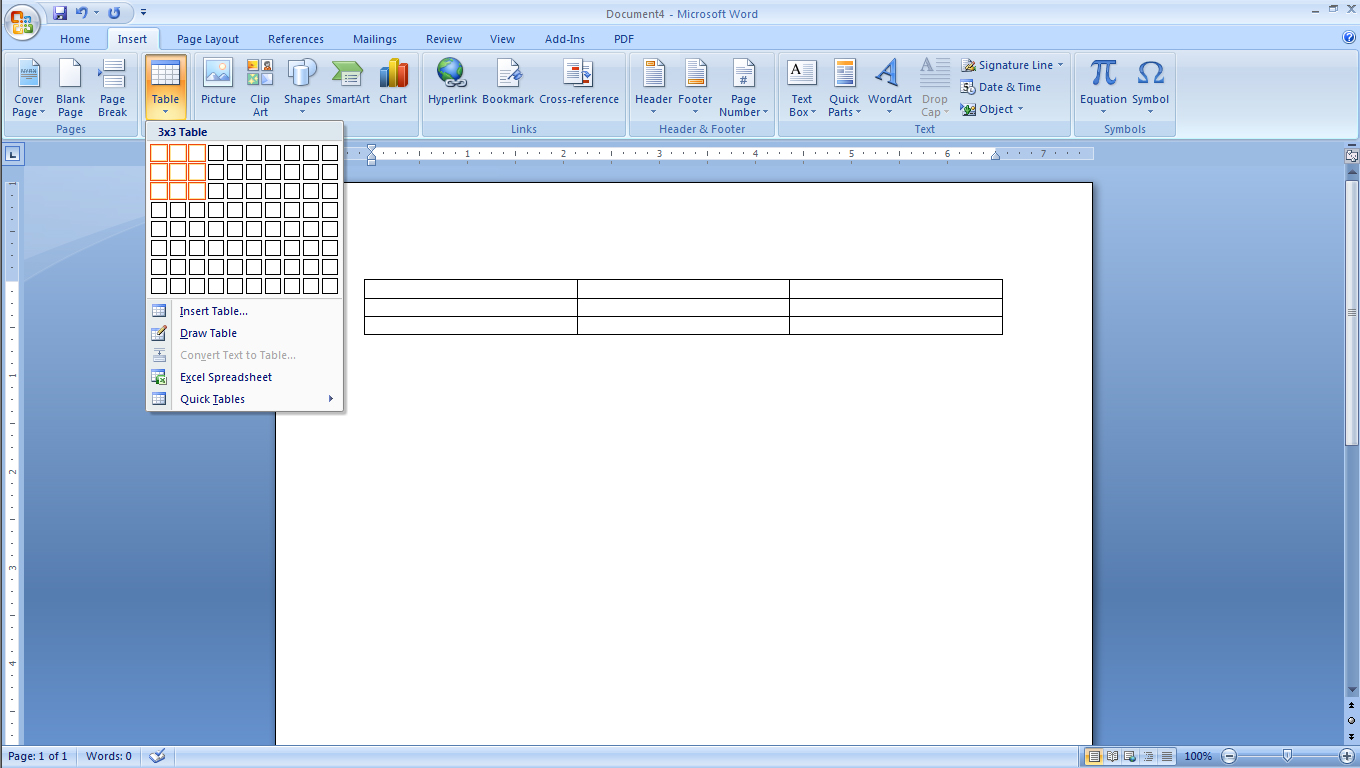 Obviously this looks nothing like your label sheet, but that's alright! We have the dimensions to fix it! Don't waste time by trying to drag around the edges of the table. Right click on the table and select Table Properties.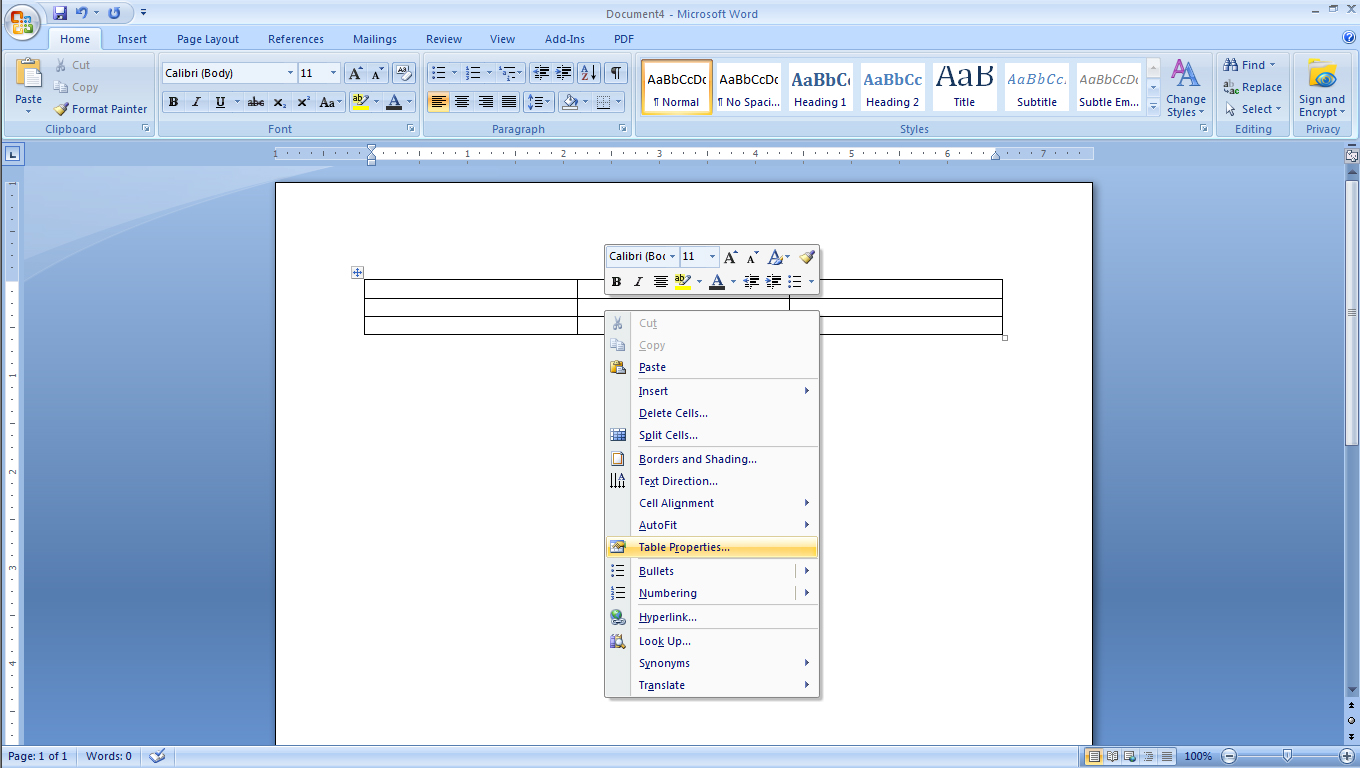 Make sure "Around" is selected for Text Wrapping and then click Positioning in the lower right corner. (Depending on your layout you may have to set your table to be Centered and, in the Page Layout options, set your margins to 0″.)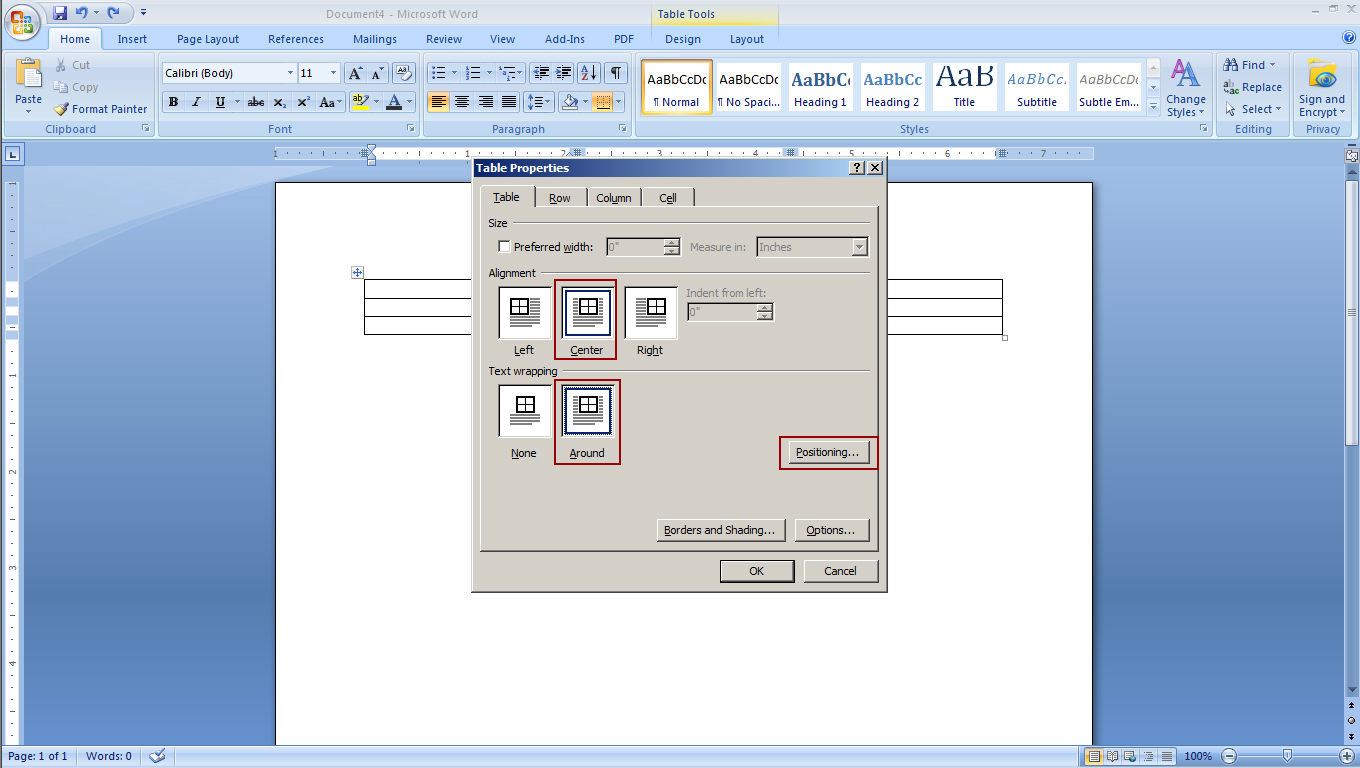 There are several things you'll need to change in Table Positioning:
Horizontal:
Position: Input your left/right margin
Relative to: Page
Vertical:
Position: Input your top/bottom margin
Relative to: Page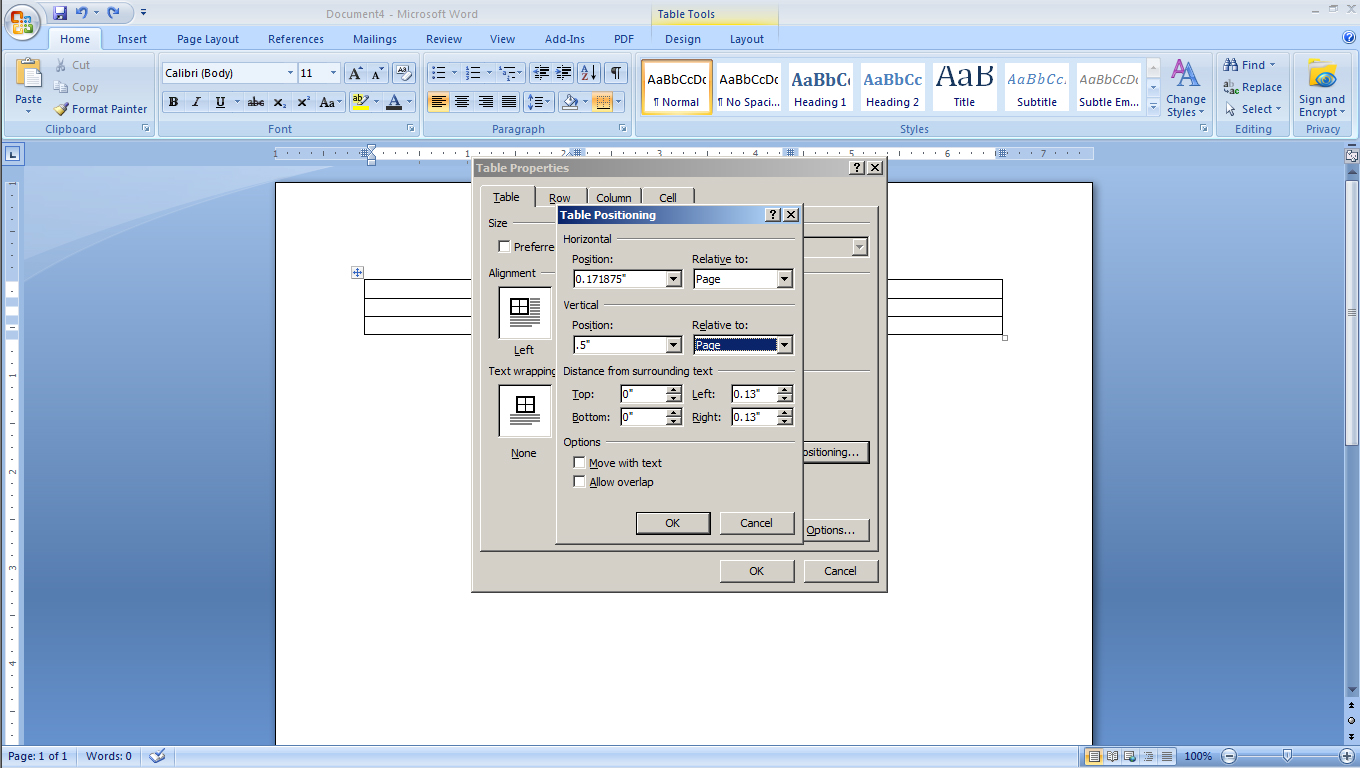 Looks a little better (kinda). Now we need to make the labels the correct size. Select all of your cells then under Table Tools go to Layout and change your height and width to the correct dimensions. (For those that have had to change your margins to 0″, if you get a warning that some of your content may be out of the printing area, click Ignore. More likely than not you won't be printing at the very edge of your table, which is what that message is usually complaining about.)
Wooo! Now that looks like our label sheet layout!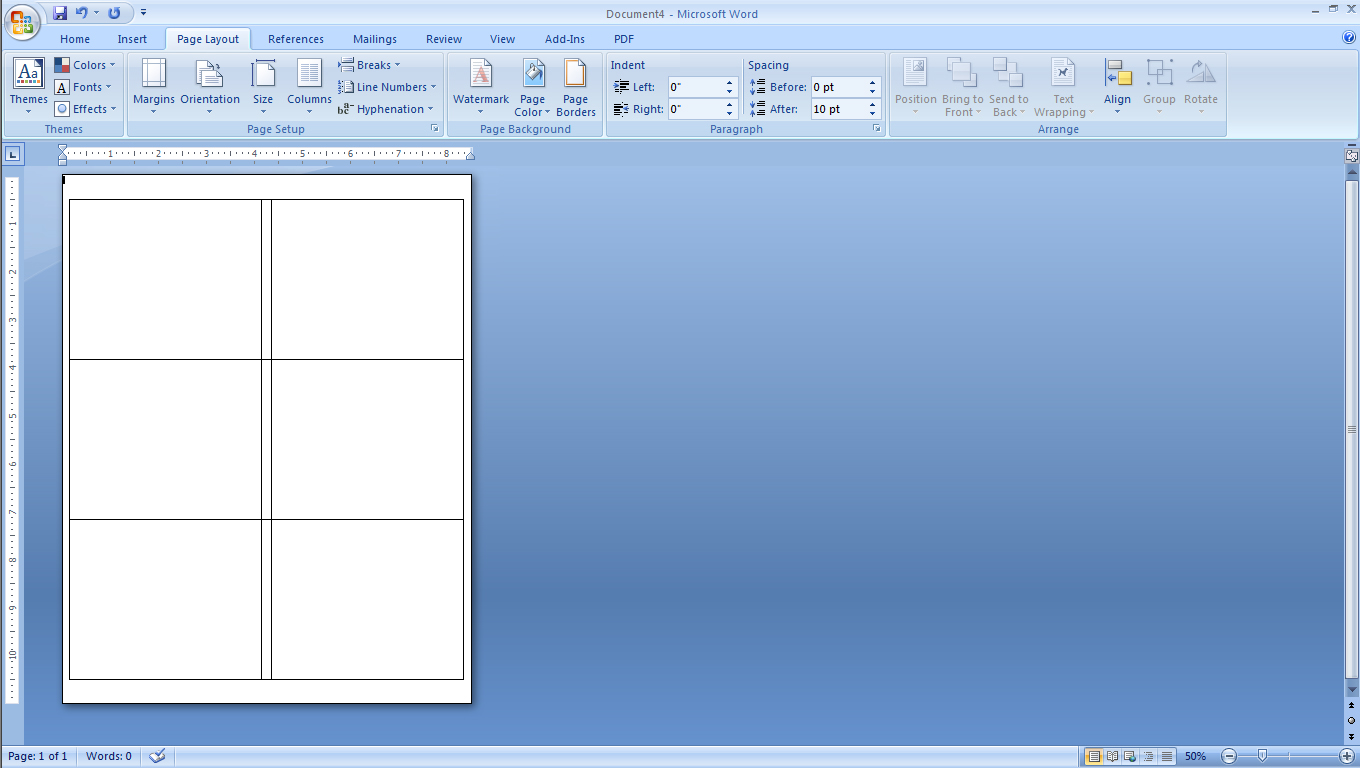 Step 3: Mail Merging Your LPN Barcodes into Microsoft Word®
Let's do one last thing to our label table. Highlight all of the cells and remove the border from them. If your page just went blank, don't worry! Your table is still there. Go back into the Table Tools and under Layout choose "View Gridlines." You should now see dashing blue lines.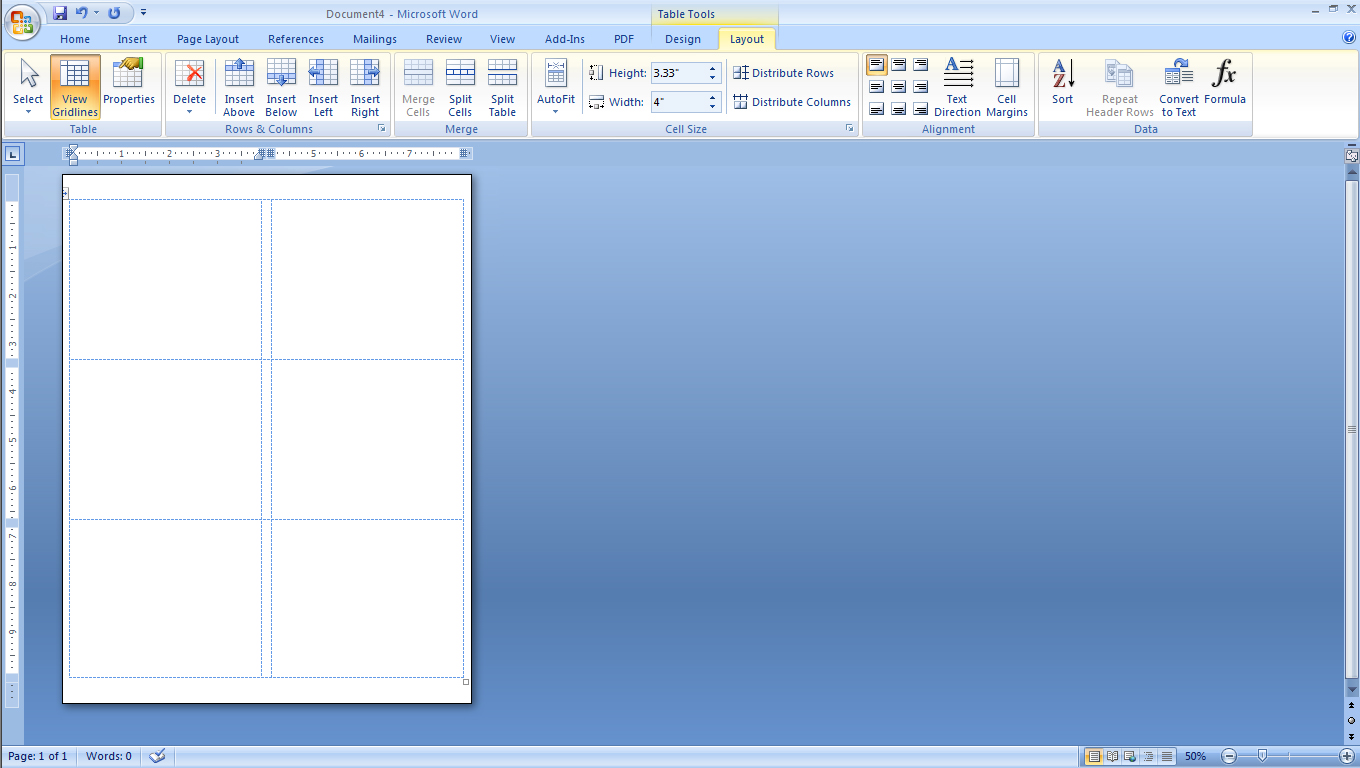 Let's get this Mail Merge started by going to the "Mailings" tab and selecting "Start Mail Merge." If the Mail Merge Wizard does not pop up on the right hand side, select it from the drop down menu.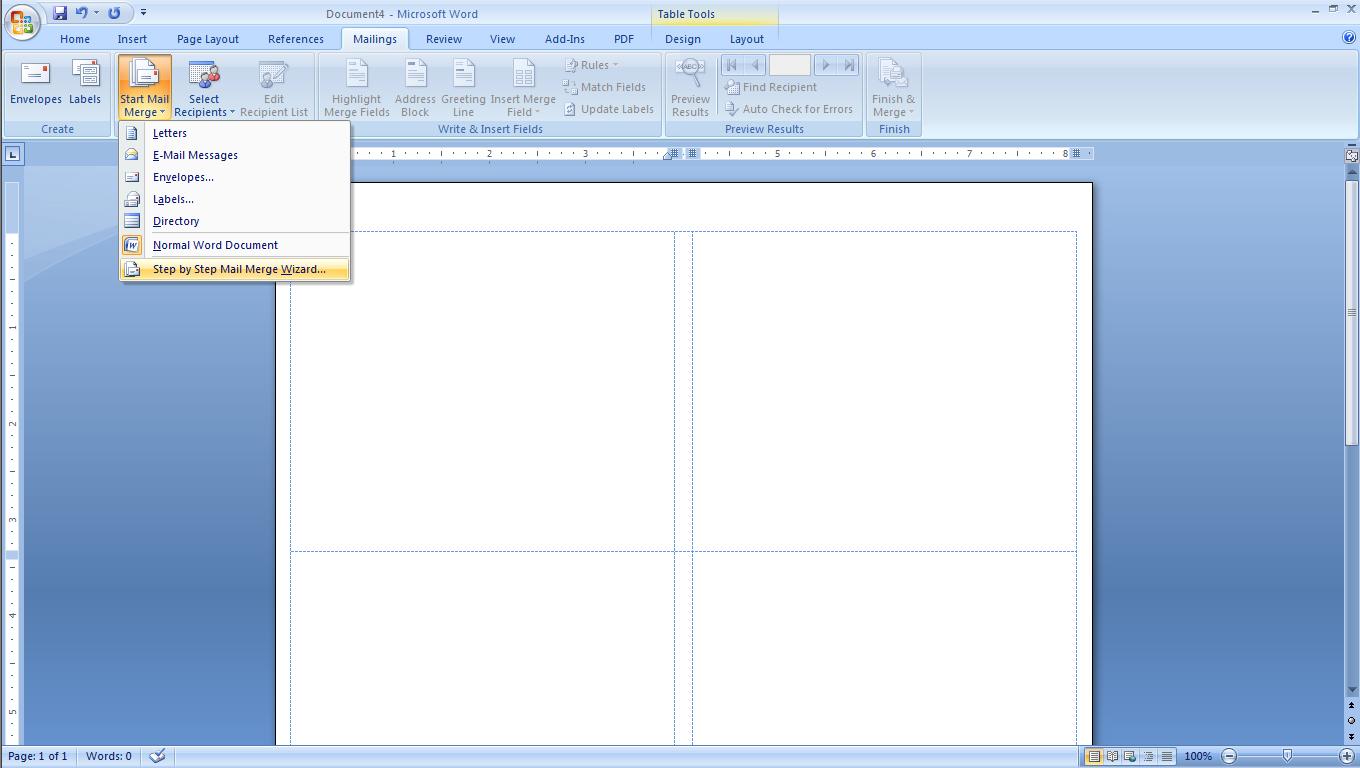 In step 1 of the Mail Merge Wizard, set your Document Type to "Letters." Step 2 of the Mail Merge Wizard select "Use the current document." For step 3 select "Use an existing list" and then Browse for the Excel sheet we created earlier.
Now we get to step 4, "Write Your Letter." Remember how we have to have parenthesis around each barcode number? Yikes! But all of our numbers in Excel are without parenthesis! It's alright, we can easily add them in Microsoft Word®. Simply type an opening and closing parenthesis beside each other, no spaces. Now insert your cursor between the parenthesis and insert your merge field.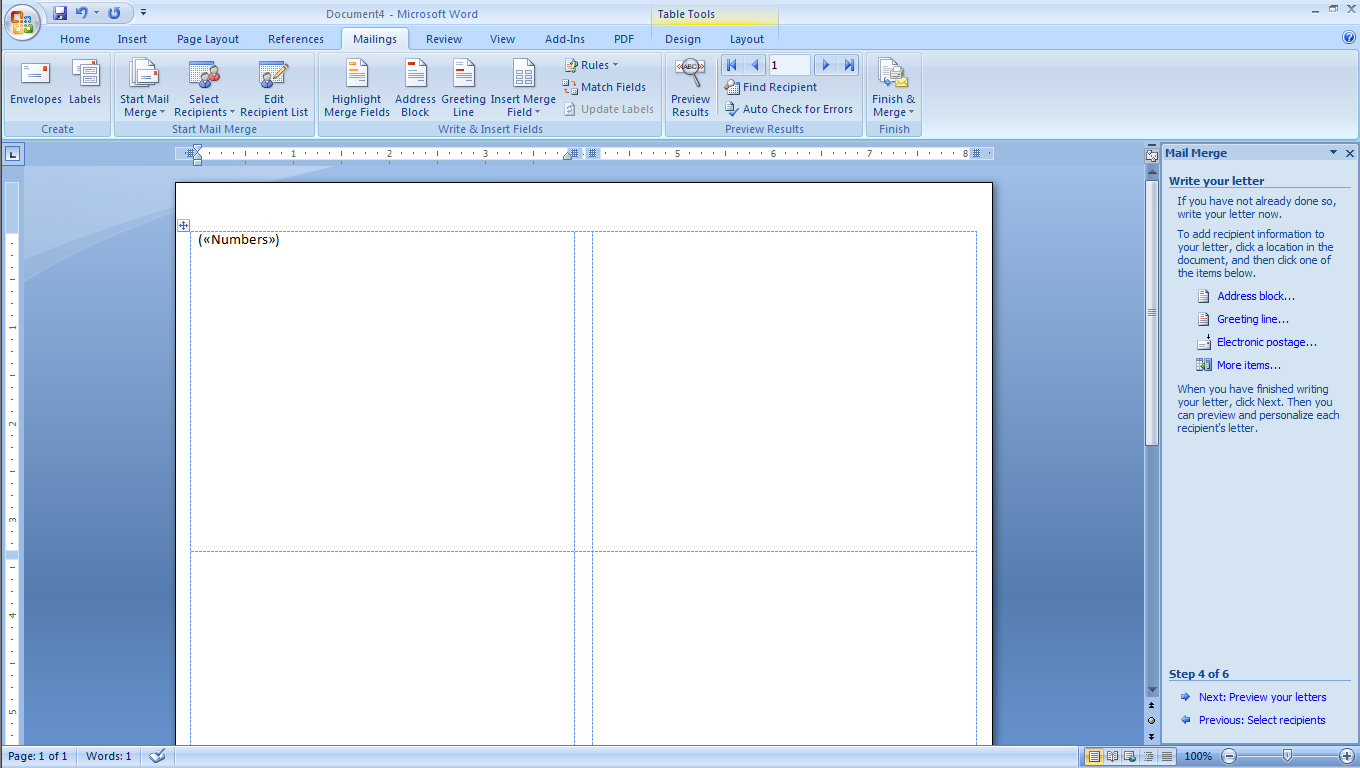 Now go through the rest of your labels and insert a Next Record Rule and your parenthesis with your merge field in them.
Use the Preview results button to make sure there are no spaces between your parenthesis and your barcode number.
No spaces? Awesome! You're done! …Almost. Select all your text (a simple ctrl + a will work) and select your barcode font. Before we go any further, print out a sheet of labels on plain paper and try scanning them to make sure you've formatted them correctly. Make sure you're doing this test print on a Laser printer since barcodes can get fuzzy and unreadable when printed out on Inkjet printers.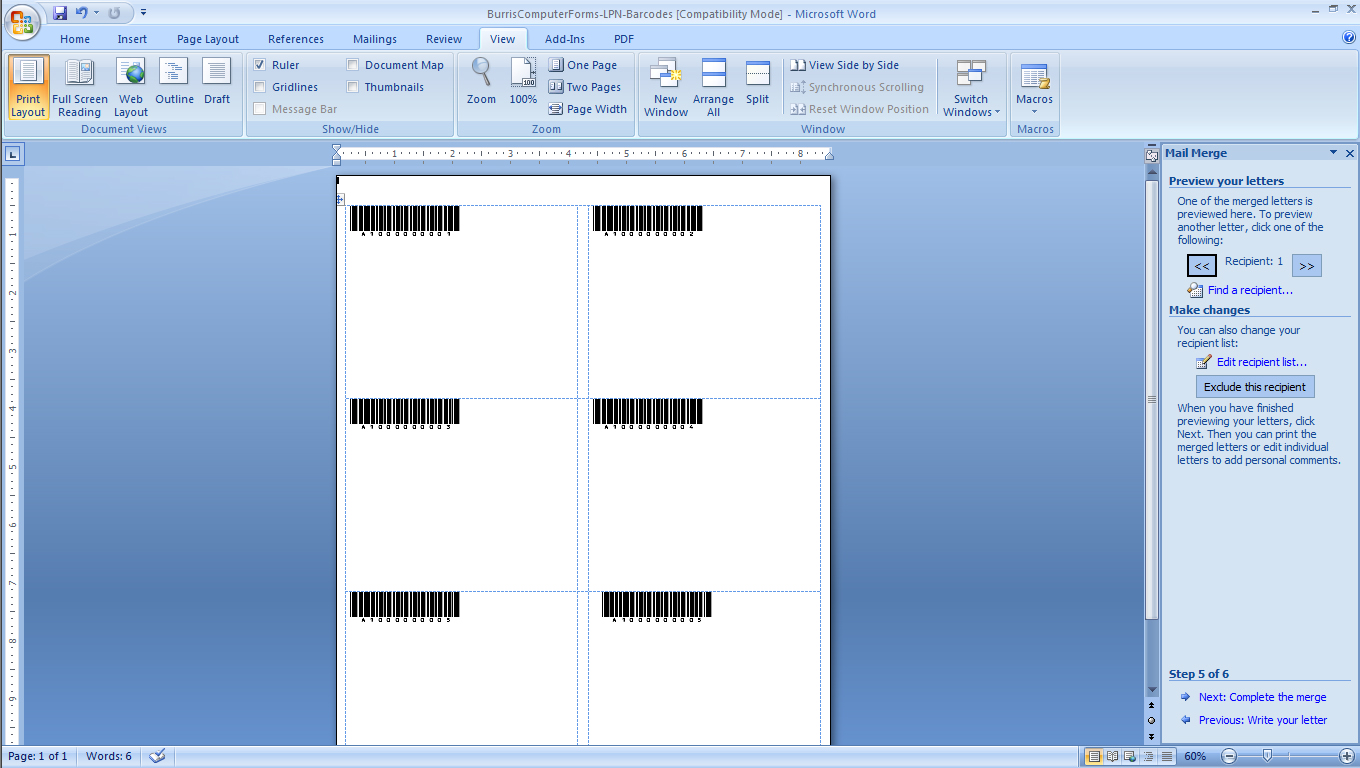 Once you've checked that it works, you can add any other extra information you may need on your LPN barcode labels.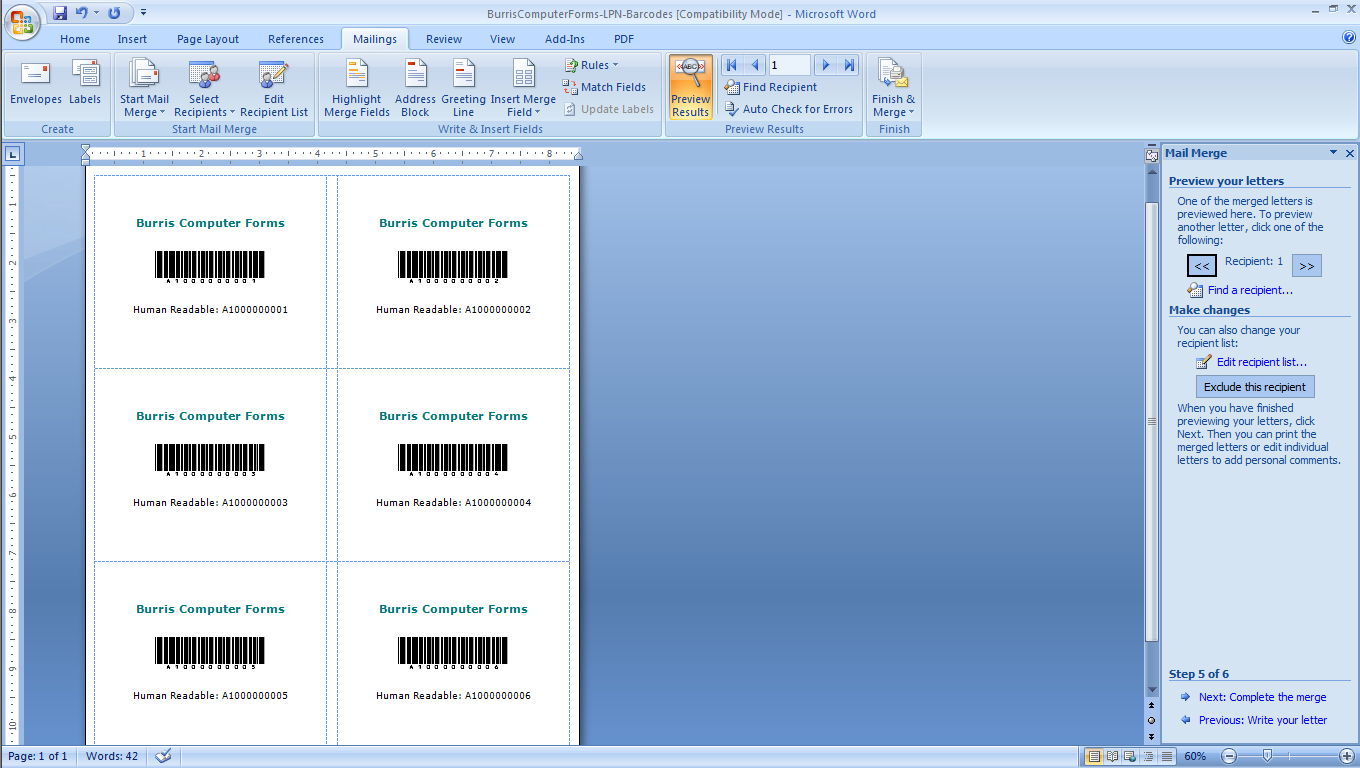 Again, before printing on your label sheet, test them on a regular sheet of paper to make sure all is well.
Once you're sure spacing and barcode labels work, print them out on a label sheet and you're ready to go! Use the Mail Merge Wizard to Complete the Merge and you'll be ready to print out all of the LPN Barcode Labels you need.
Download the finished template!

Have a unique fulfillment system that requires a special label sheet for LPN barcodes? Design your own label sheet!