Good communication can be challenging with a homeowners association. Blank printable doorknob hangers can help with customization for different messages, and even different languages. Being able to personalize so well with their communication can help to bring community members and board members closer together.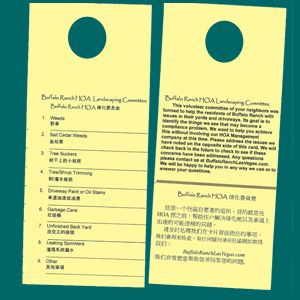 While searching for a way to personalize messages to community members, Vicki Pinnicchia of the Buffalo Ranch Homeowners Association says she found the "perfect solution" by printing notices in-house on Burris' Create-N-Hang Door Hangers ™.
The Challenge
Being in charge of information distribution for a homeowners association is a large and sometimes difficult job. When members within an association speak different languages, the task can become even more challenging.
Buffalo Ranch Homeowners Association [HOA] is a unique group. They have homeowners who speak English, as well as a large percentage who speak Chinese. Vikki, who communicates with the Buffalo Ranch HOA residents, found that effectively spreading a message in both languages proved to be a complex task. She needed a direct system that would allow her to effectively and quickly communicate with both the homeowners speaking English and those speaking Chinese, without incurring postage fees.
The Burris Solution
Through networking with a fellow board member of the Buffalo Ranch HOA, Vikki was introduced to Burris Computer Forms' website. While there, Vikki had the idea to use Create-N-Hang Door Hangers ™ to deliver homeowner notifications. She decided to try Burris' three-per-page hangers in wild canary – a great color for attracting attention to be sure the homeowners did not miss her message.
By using these door hangers, Vikki is able to print customized messages in-house. She can print as many as she needs for the number of homeowners with whom she's communicating. Vikki explains the way in which she uses printable door hangers:
"I print on both the front and the back, in both English and Chinese…
one side is the items that we have issues with and
the other explains how they can contact us or visit the community website."
Vikki Pinnicchia
Buffalo Ranch HOA
Vikki's Results
Since printing her own forms and implementing door hanger delivery, Vikki has seen a great response in the neighborhood. She now sees more homeowners communicating with the association's board. She attributes that to communication channels being made "direct and quick".
Vikki states that some of the other advantages are that there is no postage required to get the message to homeowners; the HOA board can print as many as they need at a time; and that the neighbors will come out and talk about the issues listed on the door hangers. Vikki says that door hanger distribution is the "perfect solution".
Learn More from Burris
Along with community announcements, door hangers are great for campaign flyers, custom marketing materials, door hanger advertising (lawn care services, real estate, etc.), utility notices, and more.
Burris Computer Forms offers different choices of print-on-demand door hangers, with three-per-page and six-per-page options, each on 8-1/2" x 11" cardstock. Door hangers are available with tear-away cards, which are great for business cards, coupons, and postcards. In addition to white, Burris offers a variety of colors. These options, along with free downloadable templates, make printing on demand affordable, easy, and fun.
Order in bulk to save time and money! Printing your own in-house allows one to print as many hangers as needed at a time, ensuring enough for each recipient, but eliminating the waste that sometimes comes from over-ordering preprinted forms. By ordering blanks in bulk, one can address new concerns quickly by being able to print as soon as needed with on-hand stock.
If you would like to learn more about printing your own Create-N-Hang Door Hangers ™, click here to see Burris' door hanger selection, or contact Amy at 800-982-3676 (3676) or amy@pcforms.com. You can request free samples with Amy or online, and try printing your own door hangers using the free downloadable templates!